This post is also available in:

日本語 (Japanese)
There are many great classical guitarists in the world, but only a few people have access to lessons. The newly launched Guitar by Masters service allows you to take lessons from top guitarists from the comfort of your own home.
Video and audio playback synchronized with the score
Guitar by Masters is a lesson material thatcan play video and audioin sync with sheet music.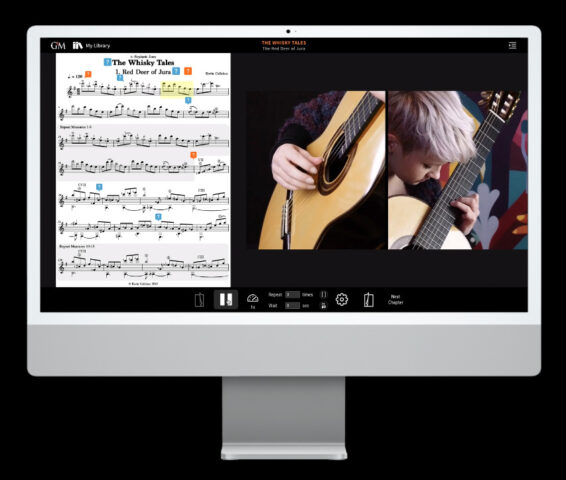 As shown in the image above, sheet music and videos of a professional guitarist's right and left hands are displayed on the screen, and the sound of the music is also played.
You can select a spefic part in the score to play and the video and audio will move there, or you can repeat a specific part.
It's not often you get to see professional fingering so up close and personal.
Here's the introduction video:
You can also play it back slowly and get performance advice
This Guitar by Masters also allows you to slow down the playback of videos and audio.
It's great to be able to control the tempo at will, because in the fast passages you can't understand what the player is doing from the video.
Also, the important places in the song are marked with a "?" mark, and you can get performance advice from the professional guitarists.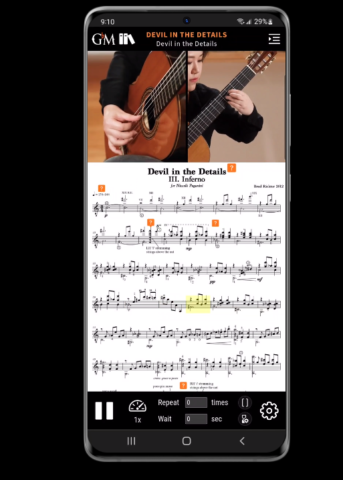 That's an advantage that mere instructional books and sheet music don't have.
Translation function is also included
This Guitar by Masters is an English tool, but it also has a translation function.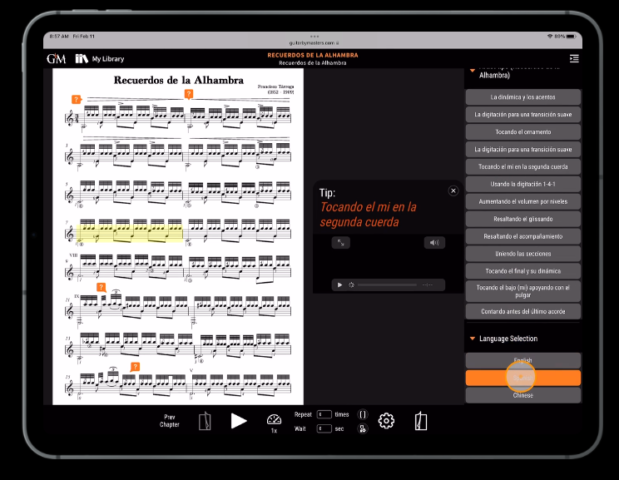 It doesn't mention which languages are supported, but I hope Japanese is supported as well.
I will add the results of my inquiry to Guitar by Masters again.
PS: I checked with the sample(Lagrima), and the languages are only English, Spanish and Chinese.
Compatible with PCs, smartphones and tablets
Guitar by Masters is available for computers, smartphones and tablets, so you can take lessons anytime, anywhere.
You can use it during your commute, for example, or watch it in your spare time.
More than 100 songs
There are over 100 songs available for lessons on Guitar by Masters. More will probably be added in the future.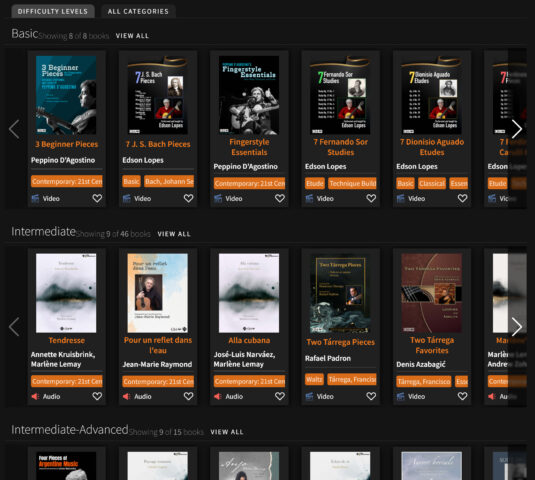 These include not only out-of-copyright pieces, but also contemporary composers such as Deyns, Assad, Bogdanovic, Maximo Pujol and Kleynjans .
Maybe it's a better deal than buying sheet music? I feel like it.
It says "A printable version of the score can be purchased from the original publisher.", though.
The world's top guitarists come to give lessons
The musicians in Guitar by Masters are some of the best in the classical guitar world.

As you can see in the image above, the guitarists include:
Sergio Assad
Bogdanovic
Yamandu Costa
Stephanie Jones
William Kanengiser
David Russell
They are very gorgeous members.
Not all of them may be in the lesson videos, and some may only have selected pieces, but it's great to have such a gorgeous group of people.
The fee is reasonable
The cost is $4.99 per month or $44.99 per year.
It's a bargain compared to the benefits of taking lessons from top artists and expanding your repertoire.
You can experience a sample using Tarrega's Lagrima here.
Guitar by Masters - Interactive Classical and Jazz Guitar Lessons
Guitar by Masters provides interactive guitar tutorials created by the most renowned guitarists, composers and teachers around the world.
Improve your skills and expand your repertoire with Guitar by Masters!
Until now, learning classical guitar on your own has been difficult, but Guitar by Masters is a great tool for anyone who wants to improve their classical guitar skills on their own.
You'll also learn songs you didn't know before, and with the videos and fingerings provided, you'll be able to efficiently build up your own repertoire.
I will sign up for it and would like to share my thoughts on it on this site.